Itinerary Map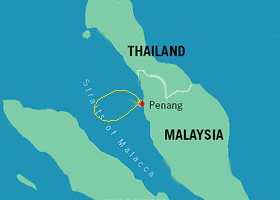 SUPERSTAR LIBRA
Departing on Wed & Thu from Singapore

Month
Sailing Dates
Apr
02, 03, 09, 10, 16, 17, 23, 24 & 30, 2014
May
01, 07, 08, 14, 15, 21, 22, 28 & 29, 2014
Jun
04, 05, 11, 12, 18, 19, 25 & 26, 2014
Jul
02, 03, 09, 10, 16, 17, 23, 24, 30 & 31, 2014
Aug
06, 07, 13, 14, 20, 21, 27 & 28, 2014
Sep
03, 04, 10, 11, 17, 18, 24 & 25, 2014
Oct
01, 02, 08, 09, 15, 16, 22, 23, 29 & 30, 2014
Nov
05, 06, 12, 13, 19, 20, 26 & 27, 2014
Dec
03, 04, 10, 11, 17, 18, 24, 25 & 31, 2014
Jan
01, 07, 08, 14, 15, 21, 22, 28 & 29, 2015
Feb
04, 05, 11, 12, 18, 19, 25 & 26, 2015
Mar
04, 05, 11, 12, 18, 19, 25 & 26, 2015
Resort style cruising on the high seas.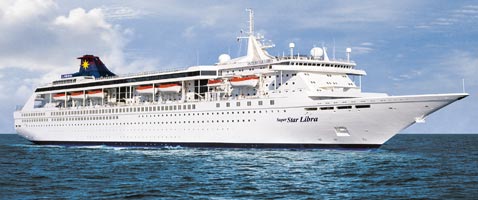 SuperStar Libra is designed to meet the changing needs of today's passengers, challenging the conventional model of cruising by providing a more relaxed, resort-style cruise, complete with flexibility and non-intrusive services of the highest standard. Escape the stress of everyday life, as SuperStar Libra brings you to a world-class exclusive floating resort in the high seas offering you an impressive array of facilities, entertainment, recreational activities and services coupled with warm Asian hospitality, which have become the hallmarks of Star Cruises.
Itinerary
Departing on

(Wednesday & Thursday)

from

Penang

Day
Destination
Arrival
Departure
Day 1
Penang, Malaysia
-
21:00
Day 2
Penang, Malaysia
08:00
-

*

Note: For pricing details click here
Inclusions :
Inclusive Restaurant:


Meals on SuperStar Libra are included in the inclusive restaurants - breakfast, lunch, dinner and tea / coffee as per schedule

For timings of entertainment and activities on ship, as well as restaurants and bars, kindly do refer to the star navigator placed in your room on each day of sailing.

Cruise Price Includes


Accommodation, all meals (breakfast, lunch and dinner as well as tea / coffee at scheduled timings ), general evening entertainment, use of general facilities on board such as swimming pool, outdoor jacuzzi and jogging track, etc.

Admiral / Balcony class privileges: Amenities on board, priority embarkation, welcome drink, choice seating options at the live shows and Gala dinner and complimentary access at the spa.
Exclusions :

All casino games, all alcoholic and non-alcoholic beverages, late night adult show tickets, use of Spa and beauty salon, laundry, telephone calls made from ship satellite phone, mineral water, shopping onboard, medical facilities and doctor on call, child care center, internet cafe usage, restaurants and outlets not included in above list, shore excursions, any other miscellaneous expenses

Onboard transactions will be made through your access card, which is also your room key. Bills for all such purchases will have to be cleared by your kind selves before disembarkation from ship. You can pay with your International CC / Applicable Forex. Local bank charges and rates will apply
Cancellation Policies:
| | |
| --- | --- |
| Cruise length 1 night | Cancellation Charges (per person) |
| 29 - 14 days prior departure | 25% of Full Fare |
| 13 - 06 days prior departure | 50% of Full Fare |
| 05 days or less | 100% of Full Fare |
| No Show / No Written Notice | 100% of Full Fare |
Terms and Conditions:

All other terms and conditions stipulated by Star Cruises apply.